Moo0 FileShredder lets you easily erase your private / secret files perfectly off your HDD.

This kind of tool is "must have", since all of your private data is usually recoverable by anybody even after you delete it. This program is made very easy to use, and you just need to drag and drop your private files / folders onto the window. It currently supports 4 levels of erasing methods depending on how important the file deletion is to you.
Tips:
- If you want to erase all the recoverable data from your entire disk space, our "Moo0 Anti-Recovery" will be of your interest.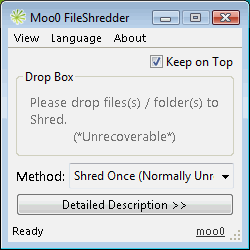 Click to enlarge